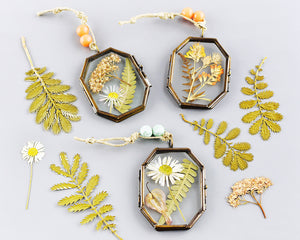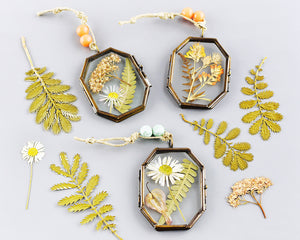 Pressed Flower Pendant #13
Reconnect with nature by bringing it into your home. Some fun places to hang up your pendant: on doors, around light switches, on the wall by your desk, above your bed, in the kitchen, you can even turn it into a necklace - be creative! The design will be able to compliment your current style and liven up any small living space or workplace.
This item is handmade, one of a kind from consciously sourced materials. The exact item you see pictured here will be the one you receive. And since every leaf and flower grown in nature is unique, you will be the only person in the world to own this item. Take care of your floral friend by keeping them out of bright direct sunlight, and away from moisture.
Pendant frame dimensions: 2 x 1.5 in (5.08 x 3.81 cm)
Materials used: brass pendant, organic plant matter, hemp string, glass beads