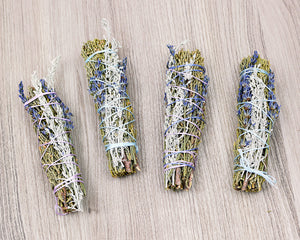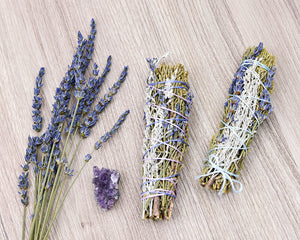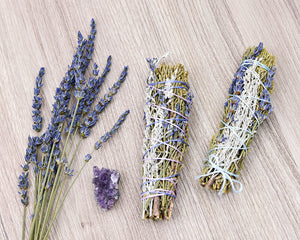 Juniper with Lavender & Silver King Artemisia Smudge Bundle (small)
Clear away bad energy and set intentions fashionably. Each Juniper Smudge Bundle is hand-wrapped using consciously sourced Juniper Leaf, with locally grown Lavender and Silver King Artemisia added for complimenting scent and great style - because sometimes nice looking things can just magically inspire that extra encouragement you need. Plus, burning things is fun and therapeutic.
The ritual of burning juniper has many benefits, both spiritual and scientific. It can act as a natural air purifier to kill bacteria in your home, and it's believed that the smoke will dissipate and travel into places that need the most energy cleansing.
Each smudge bundle is approximately 5in (12.7cm) long, and will be safely packaged in an all natural undyed muslin drawstring bag. This order is for one smudge bundle, crystal not included. Can last up to 6 months when used regularly, or can simply be displayed to bring some witchy vibes into your home.