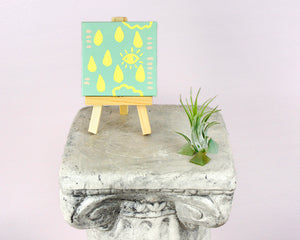 S.A.D. Reversible Mini Painting Green #3
Seasonal Affective Disorder "S.A.D." reversible mini paintings let you express your mood with subtle style. Flip the painting one way to display rainy day tear drops, or turn it upside down for sunny day balloons. Keep it on your desk to show your friends and colleagues how you really feel.
Hand painted and one of a kind. You will receive the exact painting and mini easel you see pictured here, and be the only person in the world to own this version.
Canvas size: 3 x 3 in (7.62 x 7.62 cm)
Easel height: 5 in (12.7 cm)
Materials used: cotton rag canvas, wood, acrylic paint